San Giustino is located in the most northern part of the Upper Tiber Valley only three kilometres from Sansepolcro, which, despite its being in Tuscany, has always experienced the same historical and political events as Umbria. At first sight, the two towns appear to be a single urban conglomerate due to their proximity.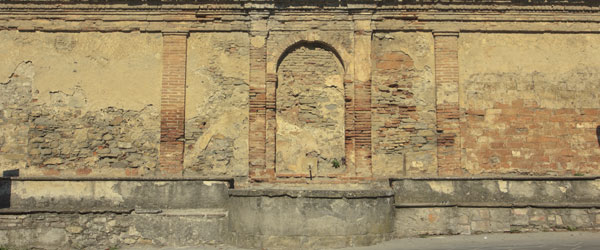 San Giustino was first inhabited in the roman era. Its oldest land allocation dates back to the 4th century CE. Its current name derives from a Roman soldier, Giustino, who was martyred in 303 CE because he was a Christian.
The Bufalini Castle in the town centre is a must-see. It has just recently been reopened to the public and boasts a beautiful Italian-style garden with labyrinths. The rooms of the ancient building contain important frescos and paintings including a "Madonna and Child with Saints" by Luca Signorelli and a "Madonna" by Andrea del Sarto. During the Renaissance, it was transformed into a lordly manor and acquired works by Perugino, Domenico Ghirlandaio and the Della Robbia brothers.
Two kilometres from San Giustino is the former Republic of Cospaia, a small village on a strip of land that became a "no man's land" due to an error in the allocation of borders between the Papal State and the Grand Duchy of Tuscany. It was actually an independent republic from 1440 to 1826. The first cultivation of tobacco in Italy took place there in 1575 after Abbot Nicolò Tornabuoni brought the seeds back with him from Spain. The town has a noteworthy Tobacco Museum in the centre. Several ruins of ancient roman villas have been found in the environs of San Giustino. Pliny the Younger spent a long time in one of the nearby hamlets on a hilltop, which still bears his name to this day: Colle Plinio. The 17th-century neo-classical Villa Cappelletti was built on the top of that very hill surrounded by a large garden. In Celalba, another small village near San Giustino, stands Villa Margherini Graziani, a splendid late renaissance building created from an ancient castle in 1616.
MUSEUMS OF SAN GIUSTINO
BUFALINI CASTLE
This 15th to 16th century castle is located in the town centre and is an elegant villa nestled in greenery and surrounded by fortified walls.
The complex is a quadrangular fortress with four towers and elements of military, medieval and renaissance architecture. In 1487, the castle became the property of the Bufalini Family, who decorated it with works of art including frescos with mythological subjects by Cristoforo Gherardi, called Il Doceno, dating back to the late 16th century.
Hours
10:00 am to 1:00 pm and 2:30 PM to 5:30 pm.
October 31st to January 27th: from Thursday to Sunday
February to March: Sundays only
April to August 1st: Everyday
The castle can be visited with a guided tour at the following times:
Individuals or groups without a reservation at 10:00 am, 11:00 am, 12:00 pm, 2:30 pm, 3:30 pm and 4:30 pm.
Groups with a reservation at 10:30 am, 11:30 am, 3:00 pm and 4:00 pm.
Address: Largo Crociani no. 3;
Tel: 075-856115
TOBACCO MUSEUM 
The Tobacco Museum is located in the centre of San Giustino in the former headquarters of the tobacco growers' consortium. It displays old machinery used for tobacco production and historical photos.
Free admission.
For further information please call 075-8618449
or visit www.museotabacco.org
EVENTS OF SAN GIUSTINO
MELISCIANO FAIR

First weekend of June
FROG'S LEGS FESTIVAL
Selci
Second half of July
PIG CHEEK FESTIVAL
Lama
Last weekend of June
STREET MARKETS
Throughout the year
San Giustino: on Fridays
Selci: on Tuesdays
Lama: on Thursdays
Monterchi: on Sundays